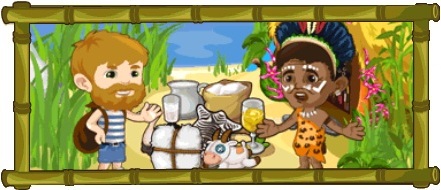 -------------------------------------------------------------Time Limit: 5 days----------------------------------------------------------------
Unquenchable thirstEdit
Part 1: The tribute to the spirit Sibbo must contain drinks to quench his thirst. You'll find something useful on your island for sure.
Ocean giftsEdit
Part 2: Inquisiting Sibbo Spirit is curious about everything, he'll surely like fishes of bright colours.
Tropical SunEdit
Part 3: Seems like the Elders got fatigued in the broiling tropical sun. Let's bring them something refreshing
Hungry spiritEdit
Part 4: The Volcano Spirit likes a good meal but to still his hunger, one needs a lot of food. The tribe needs your help!
Warriors' offeringsEdit
Part 5: Being true warriors, the Tikki are sure that beautiful animal felt will please Sibbo spirit like nothing else
Curious SpiritEdit
Part 6: One has to offer something unusual to Sibbo spirit. You have to do your best to surprise it. Hurry up, there's very little time left!