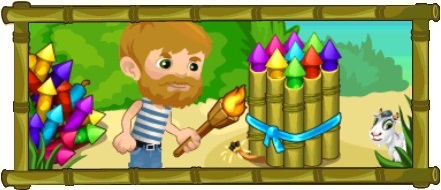 In Tikki tribe there are a lot of beautiful traditions. One of them is The night of Fireworks. All the tribe gathers together to look at the beautiful lights in the sky.
--------------------------------------------------------Time Limit: 7 days-----------------------------------------------------------
Making a fireEdit
Part 1: It is so cozy to sit at the fire on a chilly autumn evening. The Tikki love to have everything the best, so one has to make the biggest fire!
Have 2000 Wood
Have 12 of Fire
Help friends 75 times
Dinner for TickyEdit
Part 2: If a Tikki is hungry, he won't be able to enjoy the fireworks to the full extent. You'll have to make a celebratory dinner.
Get the crops of Tomatoes 100 times on your island
Find 15 portions of Aubergine (Egg-plant) salad
Find 12 dried Melons on your island
Late supperEdit
Part 3: These Tikki! Do you know that besides an ordinary dinner, they also have a late supper?
Get the crops of Strawberries 120 times on your island
Find 15 milk from the Cow Collection
Find 12 portions of Grapes jelly on your island
Fire flowersEdit
Part 4: The fireworks ought to be awesome. What can be more fabulous than fire flowers in the night sky? Why don't you get inspired by nature?
Lights in the night skyEdit
Part 5: Firework lights can illuminate the night sky even brighter than a full moon! What a fabulous performance it is!
Find 18 Wool from the Sheep Collection
Find 15 Grass blades with dew
Kick away the Python 12 times
Safety comes firstEdit
Part 6: Fireworks are beautiful, but they are also very dangerous. First of all you have to prepare a site and to think of safety.
Gather 35 Grass
Have 15 of fresh Water
Find the Fire-extinguisher from the Chili Collection
Let's add more coloursEdit
Part 7: Where can one find suitable colours for the fireworks? Perhaps flowers form the Tree island can help?
Find 150 blue Petals
Find 30 green Petals
Find 50 yellow Petals
Grand showEdit
Part 8: When making fireworks, the most important thing is safety! Let's add some colour. Done!
Have 12 of Powder
Make 7 Fireworks
Start the green Firework (3 times!!!)