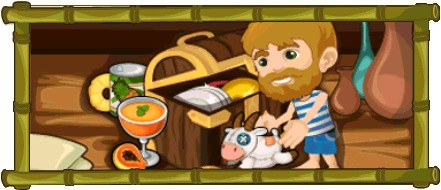 Melons for breakfastEdit
Part 1: Start your day with a refreshing melon mousse and a scoop of ice cream. Paradise, isn't it?
Plant 100 Melon patches (costs: 9 per patch)
Find 10 servings of Melon mousse
Find 20 Melon ice-creams
 Goat CollectionEdit
Part 2: Goats not only give us their precious wool but also milk, cheese, and many other things!
Buy 40 Goats (costs: 150 per Goat)
Exchange Goat Collection for a reward 5 times
Feed Goats 80 times
 Pickles and Sweet Fruit stewsEdit
Part 3: Stock up on some pickles and stewed fruit to have a snack whenever you need
Find 20 cans of Grape Juice
Find 8 cans of Pickled Tomatoes
Collect 20 cans of Apricot juice
 Fruit dessertsEdit
Part 4: You are not crazy to miss the chance to enjoy the true tropical fruit desserts, right?
Find 12 Apricot puddings
Find 16 Kiwi jellies
Find 6 Banana milk-shakes
 Potato soupEdit
Part 5: Boil together in water some vegetables, potatoes and spices. Serve with wheat flour buns
Have 30 Fires
Find 36 servings of cooked Potatoes
Find 4 Wheat Loafs
 Chicken dietEdit
part 6:
Sell 60 Hens
Find 30 Chicken Fillets
Find 12 Chicken Wings
Plush animalsEdit
Part 7: It is said that the animals of the island could give you plush toys if cared for and fed properly
Find 6 plush Goats
Find 10 plush Sheep
Find 5 plush Ostriches
 Let's continue the searchEdit
'Part 8: Next plush toys to grab: Zebra, Hen and Pig'
Find 3 plush Hens
Find 4 plush Pigs
Find 2 plush Zebras
The most precious toys!Edit
'Part 9: So, it's time to find the rarest and most valuable stuffed animals around: the giraffe and the elephant. Then you can brag about it to your friends!'
Find 3 plush Giraffe
Find 4 plush Elephants
Visit 25 friends
---