Favorable climateEdit
Part 1: A swamp isn't the best place for a man with bad legs. Talk to Steve and help him relocate.
Speak with Steve on Fort Island
Getting ready for the tripEdit
Part 2: You know the way to Fort Island well, but the sea is always full of surprises. Perhaps you should make some emergency provisions.
Collect 6 soft Pillows (to be obtained by Totems or asking friends)
Find 4 cans of Corn on your Island
Find 7 Sauerkraut (Cabbages needed; harvest time 10 hours)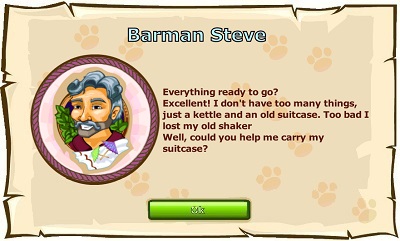 Part 3: Now just load Steve's things in the boat and we'll be off!
Speak with Steve on Fort Island
Go back to your Island
A bar on the IslandEdit
Part 4: Steve has always dreamed of opening his own bar. The Island won't get too many visitors, but that's not so important.
Begin constructing a Bar on your Island
Harvest Grapes 60 times (harvest time 1 hour)
Find 8 portions of Sugar from the Zebra Collection
Light SnacksEdit
Part 5: It's hard to imagine a bar without some snacks. You can find some snacks on the island.
Complete the Bar's construction (needed: 8 Bamboo, 14 Electric bulbs, 11 Leaves, 14 Wood boards, 7 sweet Water and 6 Rivets)
Find 6 chocolate-covered Peanuts (Harvest time: 2 days)
Find 14 Chips from the Potatoes Collection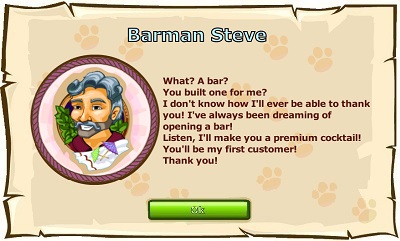 Grand OpeningEdit
Part 6: Construction complete. Time to show Steve his new bar. He'll love it!
Speak with Steve on your Island
Work ConditionsEdit
Part 7: The most important ingredient in any cocktail is the bartender's skill. Nothing can distract him, especially wild animals
Chase away 5 wild Animals
Collect a reward from the Bar 2 times
Send your friends 30 Hot Dogs
First CocktailEdit
Part 8: To make a cocktail, you must carefully follow the recipe! But a little bit of improvisation will make the cocktail not just good but great!
Collect 10 blue Petals
Find 22 Lemonades from the Lemon Collection
Make a Nimble Farmer Cocktail in the Bar
Taste TestingEdit
Part 9: Steve says that he's made his best cocktail. Why not take a break and quench your thirst?
Drink 5 of Steve's Cocktails
Clean up 108 Crops from your Island
Lucky chapEdit
Part 10: Steve made a special cocktail for you. And he says the drink got its name for a reason!
Make a Lucky Cocktail
Find 9 Quarter-Foils from the Luck Collection on your island
Find 8 Plush Behemoths (plush Hippos)
Next: Medicine Thieves