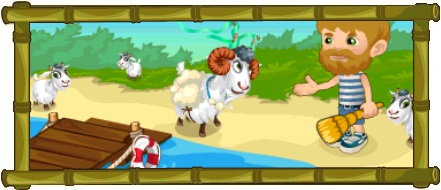 Another fine day! It would be lovely to sit and admire the waves. Just hope the day goes without any surprises!
----------------------------------------------------Time Limit: 7 days ---------------------------------------------------------------
Fishing DayEdit
part 1: Today is a wonderful day. Why not take advantage of the weather? A perfect day to go fishing.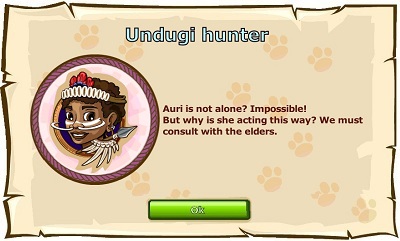 Unexpected GuestsEdit
Part 2: Another goat? We should tell Undugi about this!.
Try to kick away the Aries-goat
Find a Tikki hunter near the Bungalow and talk to him
Good IntentionsEdit
Part 3: Unfortunately, Undugi didn't have any advice for you. Looks like you'll just have to do whatever's worked in the past.
Feed the Sheep on your island 70 times
Water trees 160 times on your Island
Cabbage DietEdit
Part 4: Maybe we need something tasty for the goat? And what could be more tasty than a fresh cabbage leaf?
Find 12 Cabbage leaves
Find 19 plant Tops from the Carrot Collection
Make 35 Hot-dogs
Happy GoatsEdit
Part 5: Progress! Try to show your guest some hospitality by providing her some entertainment! Everybody knows that a great game gets even better if you add a cute monkey
Feed Monkeys on your Island 65 times
Collect 6 Sombreros from the Vulture Collection
Find 19 servings of Apricot juice
Patience and Hard WorkEdit
Part 6: Diligence is a great virtue. Perhaps if the goat sees how hard you work around the island, she'll finally calm down.
Collect the maximum Jack's Bonus 7 times
Collect 25 Mosaic Fences (needed: 3 Mosaic and 3 Wooden blocks per Fence)
Find 16 portions of Eggplant salad
A comfortable islandEdit
Part 7: Why not invite the guest to stay on the island? Wait, where has she gone? Perhaps you should re-evaluate the comfort and safety here on your island?
Happy GoatsEdit
Part 8: The goat will love to stay on your island if she sees how carefree life here really is.
Feed Goats on your Island 95 times
Find 5 plush Sheep
Find 23 servings of Tiramisu from the Peach Collection on your island