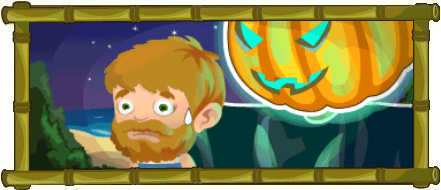 Tikki tell their children a story, about how every year, during the second month of harvest collection, scary Jack 'o' Lantern comes to the island and steals away the most unruly and disobedient Tikki children
---------------------------------------------------------Time Limit: 30 days--------------------------------------------------------
Mysterious shadowEdit
Part 1: What was that behind the tree? A scarecrow? You are seeing things.
No, it can't be! It's just a scary story for children!
Nightmare before HarvestEdit
Part 2: Why does this island attract all kinds of strange inhabitants? There is no time to think about that. You must get rid of Jack 'o' Lantern before your entire harvest is destroyed!
That's great! The harvest has been saved, but Jack 'o' Lantern is annoying you.
You shall not pass!Edit
Part 3: This can't go on! Maybe you could chase away Jack 'o' Lantern?
Great, this should scare Jack 'o' Lantern, at least for a time...
I can't see youEdit
Part 4: Jack 'o' Lantern is so annoying! Perhaps you could just ignore him and he will leave?
You are doing really well, but Jack 'o' Lantern hasn't left your island yet. But it was worth a try!
Child's playEdit
Part 5: Jack 'o' Lantern is ready to share something with you in return for some help.
Brilliant! Where did Jack 'o' Lantern find these goods?
Autumn ShopEdit
Part 6: Let's see what Jack 'o' Lantern can offer you in exchange for pumpkin lanterns.
Great! That seems like the beginning of a mutually fruitfull collaboration.
---