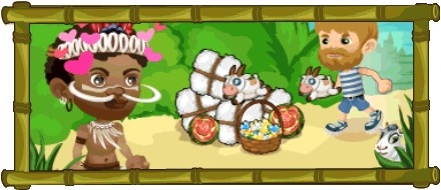 -------------------------------------------------------------Time Limit: 7 days----------------------------------------------------------------
Undugi in LoveEdit
Part 1: Undugi has helped you many times in the past. Since he wants to give someone a gift, you can't refuse to help him.
Every Little Bit HelpsEdit
Part 2: The gift must be splendid! Your friends will help you, of course! Every little bit helps to make a beautiful piece of jewelry for the beautiful girl!
Flowers for the beautyEdit
Part 3: How could we forget about flowers? Especially since the flowers found on the Tree Isle are the most beautiful of all!
Grow and pick 59 Blue Flowers on Tree Isle
Find 20 Clay Figurines
Find 3 Yarn from the Sheep Collection

Reward: 8 , 4 Monkeys


A few PetalsEdit
Part 4: It's not just the gift that's important, but how you present it! It's time to think about wrapping it!
AbductorsEdit
Part 5: While you were busy collecting wrappings for your gift, cheeky Ini and Yari stole it from under your nose! The Chief's favorites find a way everywhere!
Catch Twin Goats 7 times
Find 3 plush Goats
Find 5 Squirt Guns from the Crocodile Collection

Reward: 350 , 2000


Return what is lostEdit
Part 6: It seems that the Twin Goats were particularly attracted by the petals of the flowers, found on the Tree Isle. You'll have to begin again.
The important thing is to remain calmEdit
Part 7: You need to somehow distract the goats to prevent them from ruining your gift. What could be better te distract them than sweets?
Next: Hunter's Big Heart (Timed!! Time limit: 5 days, contains 7 parts.)