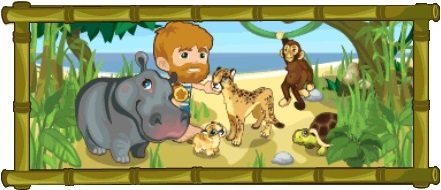 Cats familyEdit
part 1: Cheetahs are predators, so they need a special diet...
Cheetah careEdit
part 2: Cheetah care is a real art. Try to master it.
Feed Cheetahs on your island 200 times
Find 20 Stop-watches on your island
Find 15 plush Cheetahs
Go Cheetahs!Edit
Part 3: It's time to say 'Bye' to Cheetahs and let them to be in the wild. Let's give them some fish for the road.
Sell 100 grown-up Cheetahs
Fish on your island 500 times
Get 100 Snappers
Squeamish monkeysEdit
Buy 120 Monkeys (costs: 2640 per Monkey)
Harvest Banana Tree on your island 596 times
Find 60 Bananas with Chocolate
Melon dietEdit
Part 5: Squeamish monkeys are playing up again! This time they want nothing but melons.
Feed the Monkeys on your island 255 times
Find 49 Monkey Masks on your island
Harvest Melons on your island 999 times
Friends with tailsEdit
Part 6: Kiwi and Peach are a real treat for your friends with tails!
Sell 150 grown-up Monkeys 
Harvest Kiwi on your island 175 times
Harvest Peaches 156 times
Hippos on the Island!Edit
part 7: Finally it's time for these kind souls! Let's treat them to some local watermelons!
Buy 100 Hippos (costs: 4560 per Hippo)
Feed Hippos on your island 236 times
Plant 144 Watermelons (costs: 318 per patch)
Friend of AnimalsEdit
Part 8: Just one last effort! Collect your well-deserved badges as a keepsake!
Harvest Watermelons on your island 255 times
Sell 130 grown-up Hippos
Collect 65 'Friend of Animals' badges (buy for Totems or ask friends)