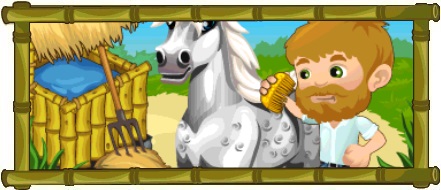 ---
Pasture arrangementEdit
Part 1: Before raising horses, you've got to prepare the island. Horses love wide open spaces.
Great! Colts will love grazing on your Island.
Part 2: To grow into beautiful horses, colts will need special menu!
Buy 5 Horses
Have 5 of Milk Formula ((found in the Store/Special) either ask from friends or buy it with Totems)
Find 7 Strawberry Leaves on your Island
Great! With this milk formula the colts will grow by leaps and bounds!
Special treatmentEdit
Part 3: For the Colts' good growth it is important to keep proper hours and provide them with a quiet life.
Feed Colts 5 times on your Island (5 Milk Formula needed)
Find 17 Stopwatches from the Cheetah Collection
Kick away the Tiger 9 times
Perfect! The bright sun, green juicy grass. What can be better?
Juicy grass bladesEdit
Part 4: Horses love to enjoy juicy grass. Perhaps the juiciest grass grows on the Tree Island
Find 12 Grass blades with Dew (can be found while harvesting a Flower patch)
Find 17 Raisins from the Grapes Collection
Send 30 free Presents to your friends
Magnificent! Your horses will become the most beautifull racers!
Gold horseshoesEdit
Part 5: Horses need horseshoes! But where can one find them on the uninhabited island? You'll have to make them with your own hands!
Brilliant! You've made excellent horseshoes!
Beautiful racersEdit
Part 6: Look how beautiful your colts've grown! But remember, they need careful attendance!
Feed grown up horses 5 times on your Island
Find 12 Goat Milk on your Island
Great! Who could have thought that one day you'll become a horse breeder!
Island breedEdit
Part 7: If there were horse-races on the islands, your horses would have won!
Search out the Ice Island 3 times
Find 12 portions of Gaspacho (Gazpacho) soup on your Island (can be found while harvesting a Tomato-bed)
Exchange the Horse Collection for a reward
Great! You've grown wonderful horses!
---
Golden Mustangs (Super Quest)