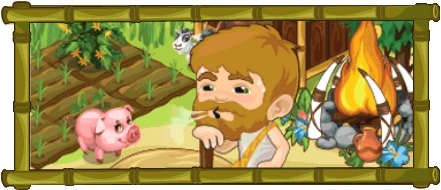 -------------------------------------------------------------------Time Limit: 5 days-------------------------------------------------------------------
Power of the VolcanoEdit
Feed the Chicken (Hens) 20 times on your island (Feeding time: 20 min.)
Sell 7 grown-up Cheetahs (Feeding Time: 3 hours; takes 6 hours to mature)
Harvest 30 of your Wine (Grape) patches (Harvest Time: 1 hour)
Knowing no FatigueEdit
Part 2: Tikki know no fatigue, so they don't need holidays. There's little work on the island left but you'd rather hurry up, the stars can change their mind.
Harvest 10 of your Watermelon patches (Harvest Time: 16 hours)
Feed the Ostrich on your Island 5 times (Feeding time: 8 hours)
Harvest 20 of your Kiwi Trees  (Harvest Time: 90 min.)
Offerings to the SpiritsEdit
Part 3: The elder say if you make an offering to the Spirit of Sibbo Volcano, he will help you in your task. Help may come in handy.
Collect 25 Bananas on your Island (Harvest Time: 8 min.)
Harvest 12 of your Apricot Trees (Harvest Time: 3 hours)
Harvest 20 Lemon Trees (Harvest Time: 16 hours)
Time to RelaxEdit
Part 4: Tikki are great at work but even better at partying! Unfortunately, there's no nice cafe on the island, so we're going to prepare everything for the party ourselfs.
Sell 4 Grown-Up Pigs (Feeding Time: 6 hours; takes 12 hours to mature)
Harvest 24 Tomatoes (Harvest Time: 4 hours)
Harvest 6 Corns on your Island (Harvest Time: 12 hours)
Important DetailsEdit
Part 5: In housekeeping, a true Tikki warrior has to know how to quiet down the fire in his heart, which is especially important when taking care of animals.
Sell 6 Grown-Up Goats (Feeding Time: 40 min.; takes 80 min. to mature)
Collect 1 Hut Reward (available after 1 hour, 12 minutes)
Harvest 25 Potatoes (Harvest Time: 10 minutes)
Ritual FireEdit
Part 6: It's time for the most important part of the trial. You have to start a big fire. Tikki believe that the stronger the fire in you heart, the higher the real flame will be
Collect 15 Decorated Logs (Can either be bought with Totems or asked from friends)
Make 10 Fires (Made in the Tent. Needed: Matches and 10 Wood)
Harvest 24 Melons on your Island (Harvest Time: 3 minutes)
---