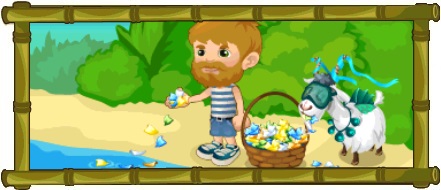 Every year, before the monsoon begins, Tikki hold a Big Water Fest in honor of their ancestors' memory and preparation for rainy days.

----------------------------------------------------------------Time Limit: 5 days-------------------------------------------------------------
Oars in the waterEdit
part 1: When there is nothing except ocean around, its important to find the nearest land as quickly as possible. These skills are very important, and the Tikki warriors have a competition to do this during their annual Big Wet Fest.
Robinson and the seaEdit
Part 2: During the rainy season, fishing is the only way to survive and find enough food. Every tikki must be a master fisherman.
Fish on your island 75 times
Fish 50 times on your friends' island
Find 7 worms from the Carrot Collection
Dont swim beyond the buoysEdit
Part 3: Real danger can await the brave Tikki warrior in the island waters. You must know how to defend yourself.
Drive Crocodile away 15 times
Chase the Python away 21 times
Find 9 plush Sheep on your island
Ideal PearlEdit
Part 4: Every year, the Tikki compete to see who can find the most pearls. Then, the girls use them to make beautifull bead necklaces. According to a legend, these beads may save your life.
Find 35 pretty Seashells on your island
Create 35 black Pearls
Make black Pearl Beads
Beautiful FlowersEdit
Part 5: Tikki believe that, if they throw the prettiest flowers in the sea, then the bad weather won't last long and the rains will bring a rich harvest. Its an excellent tradition, why don't you participate in it?
Collect Flowers on the Tree Isle 75 times
Harvest Grapes 86 times on your island
Find 21 ideal Slices from the Melon Collection