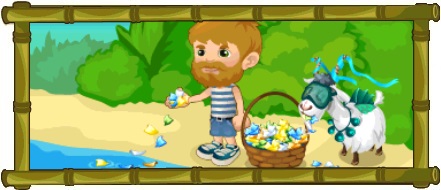 Every year, before the monsoon begins, Tikki hold a Big Water Fest in honor of their ancestors' memory and preparation for rainy days.
------------------------------------------------------Time Limit: 14 days 14 hours--------------------------------------------------------
Oars in the waterEdit
Part 1: When there is nothing except ocean around, it's important to find the nearest land as quickly as possible. These skills are very important, and the Tikki warriors have a competition to do this during their annual Big Wet Fest.
Robinson and the seaEdit
Part 2: During the rainy season, fishing is the only way to survive and find enough food. Every tikki must be a master fisherman.
Fish on your island 50 times
Fish 25 times on your friends' island
Find 2 Worms from the Carrot Collection
Don't swim beyond the buoysEdit
Part 3: Real danger can await the brave Tikki warrior in the island waters. You must know how to defend yourself.
Drive Crocodile away 5 times
Chase the Python away 7 times
Find 3 plush Sheep
Ideal PearlsEdit
Part 4: Every year, the Tikki compete to see who can find the most pearls. Then, the girls use them to make beautifull bead necklaces. According to a legend, these beads may save your life.
Find 25 Seashells on your island
Create 25 Pearls
Create Pearl Beads
Beautiful FlowersEdit
Part 5: Tikki believe that, if they throw the prettiest flowers in the sea, then the bad weather won't last long and the rains will bring a rich harvest. Its an excellent tradition, why don't you participate in it?
Collect Flowers on the Tree Isle 27 times
Harvest Grapes 35 times on your island
Find 7 ideal Slices from the Melon Collection
---
Next: Big Wet Season